Channel Sales
Keynote
Cloud Marketplaces – The $250B B2B Sales Channels You're Missing Out On
Tackle.io explain how Marketplaces can increase the size of Cloud deals by 30% and reduce their sales cycle by up to 50%.
In this SaaStr Scale webinar John Jahnke, CEO of Tackle.io, and Nicole Wojno-Smith, VP of Marketing, highlight some of the most important conclusions from the Tackle.io report on the State of the Cloud Marketplace.
The Tackle Cloud Marketplace Platform enables a zero-engineering approach to listing, integrating, and managing your Cloud Marketplace business.
Introduction – Nicole (2:06)
Tackle.io published the first of its kind, a State of the Cloud Marketplace report in October. This was as a result of compiling data from hundreds of B2B software customers and suppliers.
Cloud marketplaces provide enormous potential for software vendors to sell more and more quickly. No matter what stage you are in, you may use these sizable and untapped sales channels as part of your go-to-market plan.
Tackle is made of career-long enterprise sellers and engineers who all thought the way of selling enterprise software needed to change.
Transforming Enterprise Software Sales
From 2m:49s John takes over to explain how Tackle is positioned to reflect the transformation of selling enterprise software. Cloud Marketplaces are a new, more efficient way of selling.
Tackle makes it simple to list on these new markets such as the AWS Marketplace, guiding customers like Hashicorp, Druva and New Relic among many others, through the process.
What is a Cloud Marketplace? (3:47)
At 3m:47s John provides a refresher overview of what a Cloud Marketplace is.
It represents B2B app stores where cloud customers can buy third-party software to run alongside their cloud infrastructure and have it go directly on their cloud bill.
With the high number of marketplaces that exist, their focus is on the three hyper-scale cloud providers which are Microsoft, AWS and Google (4:10). These marketplaces accommodate the ability to sell complex software with simple click to deploy options. A rapidly accelerating percentage of their customers are starting to use the marketplace to transform software procurement.
The Way Marketplaces Work(4:45)
Marketplaces are not only for developers. More features have evolved to support transactions of all different sizes.
These marketplaces support almost all software business models. Your marketplace doesn't have to be 100% self-serve. The marketplace now supports all different types of complex software, and now instead of checking if your competitors are on the marketplace, instead check if your buyers have a relationship with one of the cloud providers. Buyers are used to buying digitally for B2C therefore buying through marketplaces is very convenient.
Marketplaces (6:54) are a win-win channel for both buyers and sellers. They accelerate, direct and channel sales efforts that you already have in place. For sellers, the marketplaces are going to offer an efficient path to customers. They provide access to new budgets and revenue. They are going to accelerate your sales cycle and help get cloud sellers paid as well.
On the buyers' side marketplaces are going to allow you to quickly procure and deploy software and consolidate all your spend into one single bill.
Factors Driving Digital Buying (7:30)
Major factors driving the evolution of digital buying include the shift to remote work, caused by the pandemic. This pushed 80% of the sales cycle to the digital setting. Other drivers include the rapid acceleration of cloud migration: Cloud-first mandates and more searches on the marketplaces have led the shift to Digital Buying.
Marketplaces offer a faster and easier buying experience to cater for these trends. Buyers like buying in the marketplace because they want to save their time and money, they relieve the headache with procurement teams when purchasing software by already having a contract with your organization. Cloud marketplace allows you to get the software you need and you still get to consolidate all payments into a single billing contract.
At 9m:24s Nicole highlights the top factors buyers report for using marketplaces:
68% – Simplifies procurement.
54% – Fast access to tools.
50% – Consolidate IT spend.
20% – Burn down committed Cloud spend.
Digital Selling is the New Frontier – John (10:45)
From 10m:45s Nicole hands back to John who explains the overall landscape for Cloud sellers, highlighting the distinction between heterogeneous markets where apps could be deployed across multiple Clouds, versus the vendor specific marketplaces like Salesforce.com or SAP where services are tightly coupled to those markets.
Ultimately the dynamic for sellers is a simple one: Sellers want to sell where buyers want to buy, and the trends described above are what is driving this.
This shift presents challenges for organizations that traditionally have sold direct – How will they transform their sales operations, embracing more of a content-led engagement? Many lack the time or resources to take on this new model and more crucially, lack the strategic insights required to translate their business model to the marketplace scenario.
At 13m:15s he lists the top reasons sellers want to sell via marketplaces:
64% – Streamline contracting and simplify procurement.
64% – Advance partnerships with Cloud partners.
63% – Gain access to buyer's pre-committed Cloud spend.
62% – Accelerate deal velocity.
60% – Unlock co-sell opportunities with Cloud providers.
On-premise components (16:10)
At 16m:10s John fields an audience question, asking if it is possible to get into the Cloud Marketplace if your solution has an on-premise component?
John's answer to this was that all the Cloud providers have slightly different rules about this, but in general the critical success factor is that your product has some components that run on their Clouds, and/or enhance the value of and increase usage of their Cloud services. There are a lot of solutions out there that have this mix.
How to marketplace by stage growth (17:25)
At 17m:25s it switches back to Nicole to explore how you can implement a marketplace strategy, which will vary depending on which stage of growth you are at. This chart breaks down the respondents to the survey based on their ARR stage.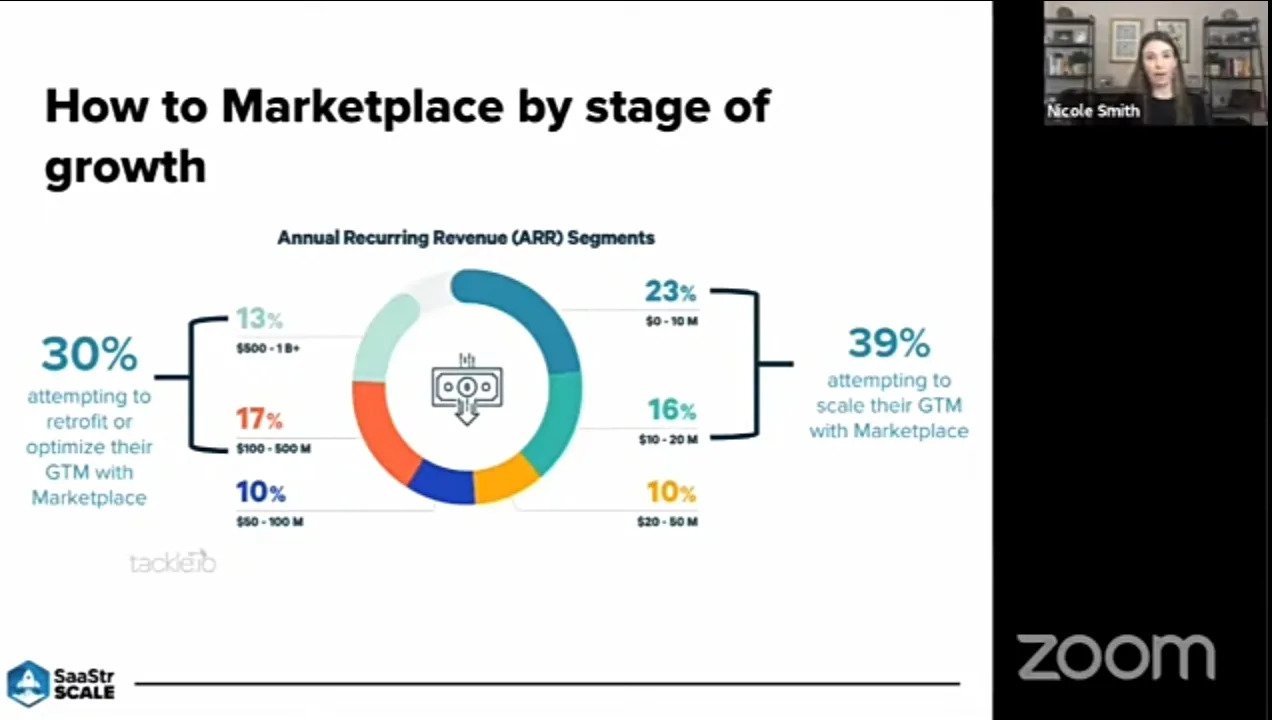 Nicole summarizes the key dynamics for each stage:
$0-20m : Early stage ventures are ideally placed to exploit a marketplace strategy from the ground up, like Tackle themselves, who have enjoyed 75% deals closing faster through marketplace than direct.
$20-100m : This segment is finding deals are 30% larger than those done directly.
$100m-$1b : These large enterprises are having to retrofit for the marketplace model and lack the tooling to do this, what Tackle is set up to address. It's a highly impactful evolution for those who operate channel partner programs, as it can be seen as a threat to resellers but offers a route 10-20% more cost efficient. Nicole puts forward CrowdStrike as an example doing this well, where the CEO commented that marketplaces have reduced their sales cycle by 50%.
How to Marketplace for start-ups (20:00)
At 20m:00s John picks up again to focus on startups, emphasizing that Cloud marketplaces can be invaluable as it sets in place the basic building blocks such as contracting and access to budget, so that reps can focus on the higher value relationship building and proposition marketing.
Start to validate demand and think about where your customers have a strategic relationship with the cloud providers and if it would be easier to buy your product on their cloud bill.
Make sure your product offers unique value and you should also complement the cloud efficiently.
To succeed in the marketplace you need to have a level of repeatability in your selling motion and your pricing.
Most importantly keep it simple.
How to Marketplace for mature software companies (22:20)
From 22m:20s John moves on to more mature software companies and their opportunities and challenges.
For these organizations the challenge is how to retrofit Cloud marketplaces into their existing GTM programs that they will have invested significantly into.
Don't wait until you are fully SAASified. Utilize the marketplace as the first step of transforming your procurement model on this journey.
Think fulfillment first and evolve to organic, not the other way round.
Help the Cloud providers meet their goals (core service consumption).
Don't overthink integration and automation to start.
Ask your buyers about their alignment with the cloud providers.
Start with the marketplace where your buyers are.
Finally, think strategically – This is not an easy button, but a multi-year strategic transformation.